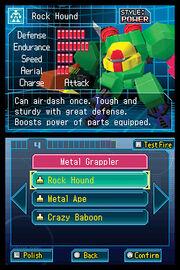 These are the different attributes of a robo. They hold a minimum value of 1 and a maximum value of 10.
Indicates a robo's power. Official stat currently disbanded. See Attack Stat.
Indicates how much damage a robo deflects.
Endurance
Edit
Indicates how much a robo can take before it goes down.
Indicates the robo's movement speed on the ground.
Air ability. Indicates the robo's air performance. This addresses abilities like jump height and duration.
Ad blocker interference detected!
Wikia is a free-to-use site that makes money from advertising. We have a modified experience for viewers using ad blockers

Wikia is not accessible if you've made further modifications. Remove the custom ad blocker rule(s) and the page will load as expected.